General Practice (GP) Trainees scan their attendance on Zoom using Class Attendance Tracker (CAT) QR
Background
St. Helier GPVTS is a GP Vocational Training Scheme, that provides education and training to trainee GPs in Sutton, UK. The programme caters to all trainee grades ST1, ST2 and ST3.
Prior to the Covid-19 pandemic their teaching sessions all took place face-to-face at the Postgraduate Centre at St. Helier Hospital. Tracking of attendance was all done manually – students would sign in on paper registers, an administrator would then type up the names on a spreadsheet, and then enter names onto a learning management system, hosted by the hospital.
With limited admin support, this was a process that was already messy and time-consuming for the team.
When the pandemic started, and the country was forced into a lockdown, St. Helier GPVTS were forced to move all their teaching sessions to Zoom. Without being able to get students to sign a paper register, they were looking for a simple way to ensure they could track attendance at their sessions virtually, and keep it all organised in one single place.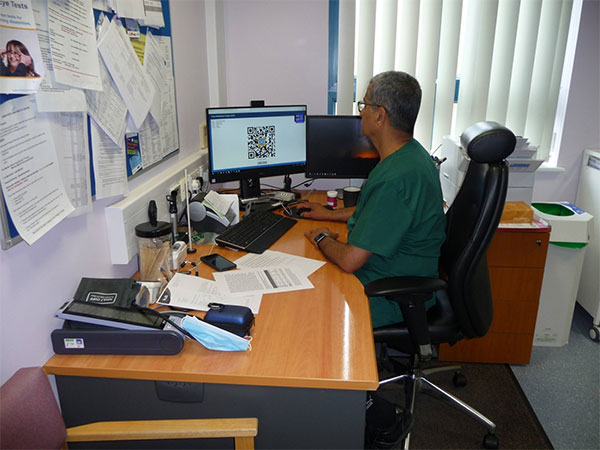 Dr. Seyan creating the Class Attendance Tracker (CAT) QR code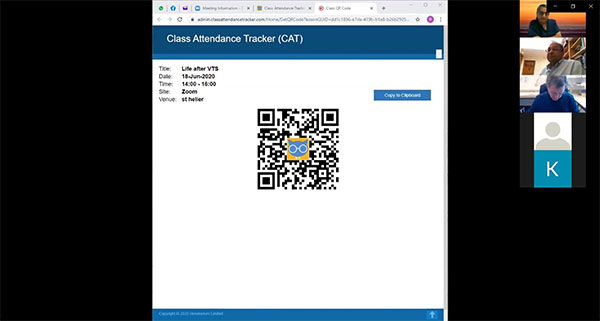 Displaying the Class Attendance Tracker (CAT) QR code during a Zoom session
The solution
GPVTS Programme Director Dr. Ravi Seyan had heard about the Class Attendance Tracker QR (CATQR) solution from colleagues at Barts Health.
While being used at the time for face-to-face training mainly, he realised that this was a solution that could just as well be used to track attendance at his virtual teaching sessions.
Dr. Seyan got in touch with the team at CATQR, who quickly set him up with his Organiser account. After a 15 min training session, Dr. Seyan began creating QR codes and was ready to use CATQR for his teaching sessions.
Now in their third term since using CATQR, St. Helier GPVTS uses the solution for every teaching session for roughly 40 students each time.
They create QR codes on a weekly basis and then simply display the QR Code at the beginning of each Zoom session. All students have downloaded the CATQR Attendee mobile app and created their account as a one-off exercise. They then simply scan the QR code to register their attendance at each session.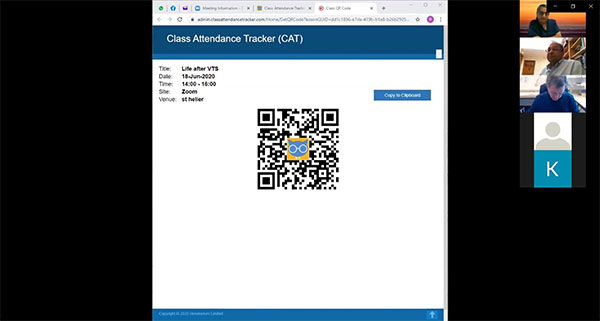 Displaying the Class Attendance Tracker (CAT) QR code during a Zoom session
Results
CATQR has made what was previously a clunky administrative process into a simple, streamlined one.
Students find it extremely easy to use and they have never had to support any students with their use of the app.
St. Helier GPVTS is also confident that CATQR will help with their annual quality assurance checks from Health Education England (HEE). The quality and organisation of their training records is one of the criteria that is looked at, and being able to point to the data on CATQR, instead of a pile of paper registers, is expected to help with the inspection.
"Having CATQR has revolutionised the way our GP registrars (trainees) register their attendance at our teaching sessions," says Dr. Seyan, "and this would have been an impossible task with our switch to virtual teaching!"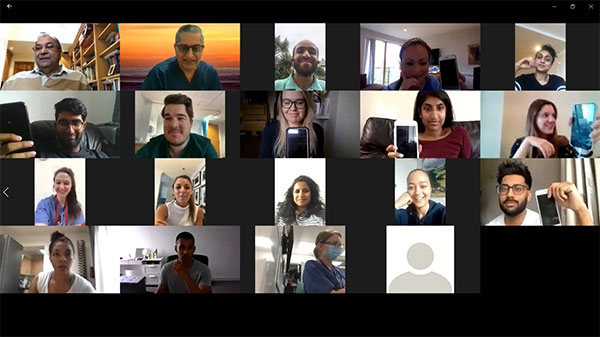 GP trainees scanning the Class Attendance Tracker (CAT) QR code

About Class Attendance Tracker (CAT) QR
The CAT QR solution was developed in conjunction with Barts Health NHS Trust, which employs over 24,000 permanent and temporary staff and manages internationally renowned teaching hospitals, St Bartholomew's Hospital and The Royal London Hospital.
While primarily designed as a solution for real-time recording of attendance at live events, both face-to-face and virtual, Barts Health is also using CAT QR for recording the collection of COVID-19 lateral flow testing kits, face mask fit testing, medical device training, vaccination training as well as check-in & check-out of venues.
Click here to see a video of CAT QR in action at NHS Nightingale Hospital London where it was used to monitor the attendance for induction, simulation and training at London's ExCeL Centre and O2 Arena.