Tracking the roll-out of lateral flow testing kits for COVID-19 testing of asymptomatic patient-facing staff
Background
With winter on the horizon and a second wave of coronavirus spreading across the country, the NHS faced significant challenges in controlling COVID-19 infection and reducing staff absenteeism. To tackle these challenges, throughout November and December of 2020, NHS organisations began the roll-out of regular COVID-19 testing of asymptomatic patient-facing staff, to ensure patient and staff safety, and keep crucial services running.
Testing would use Lateral flow antigen testing, which tests for the virus using a swab sample. The test can be self-administered and produce results in 30 minutes, which would provide the speed and scalability that was required for testing across the NHS workforce.
Lewisham and Greenwich NHS Trust employs almost 7,000 staff with over 5,000 patient-facing roles, and the rapid distribution of the testing kits would be a logistical challenge across its two hospital sites. It was crucial that for governance purposes, the Trust had to accurately track who was receiving their kits and be able to report the kit collections in real-time.
With a small team and thousands of staff who would be collecting their kits, the Trust realised that excel spreadsheets or paper registers would likely cause bottlenecks and long queues of staff, and lead to inaccurate and messy data.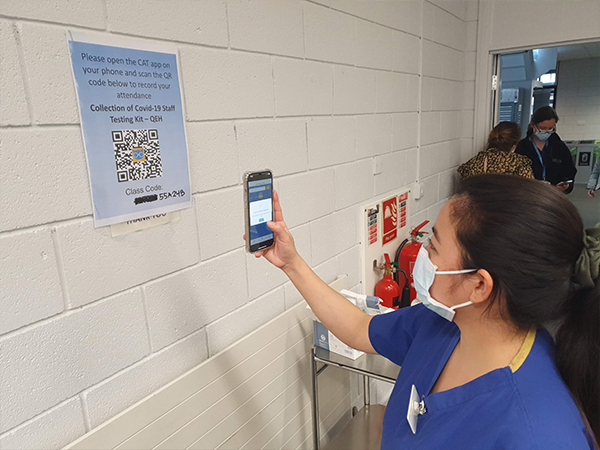 A nurse scans the Class Attendance Tracker (CAT) QR code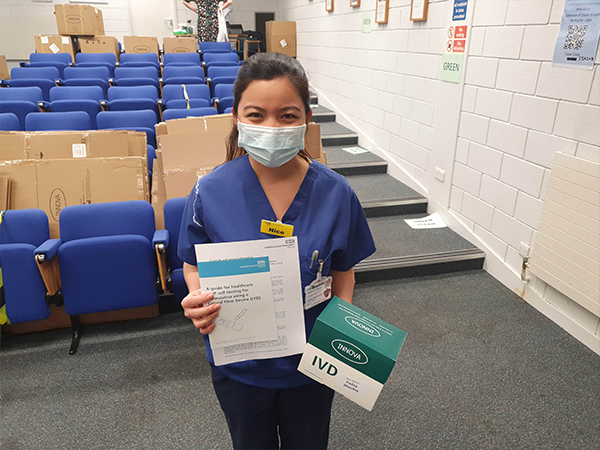 A nurse with her COVID-19 lateral flow testing kit
The solution
The Trust was already using the Class Attendance Tracker (CAT) QR solution for tracking attendance at education and training sessions, and the Clinical Governance team, who were tasked with rolling out the testing programme, made a decision to use the CAT QR solution for tracking staff as they collected and received their training for the lateral flow testing kits.
Trust-wide communications were sent out to all staff, with information about using the CAT QR app when they collected their lateral flow testing kits. The campaign launched towards the end of November 2020 and collection points were set up in lecture theatres at their two main sites at Lewisham Hospital and Queen Elizabeth Hospital, where staff would collect their kits.
The collection point CAT QR code was displayed at each station. Upon arrival, the individual staff member used their mobile phone CAT QR app to scan the collection point CAT QR code, which registered their attendance. In a few instances where the staff member did not have their CAT QR app on arrival, their attendance was recorded on the CAT QR system by the local site team. Staff were then given their lateral flow testing kit and received a quick training session.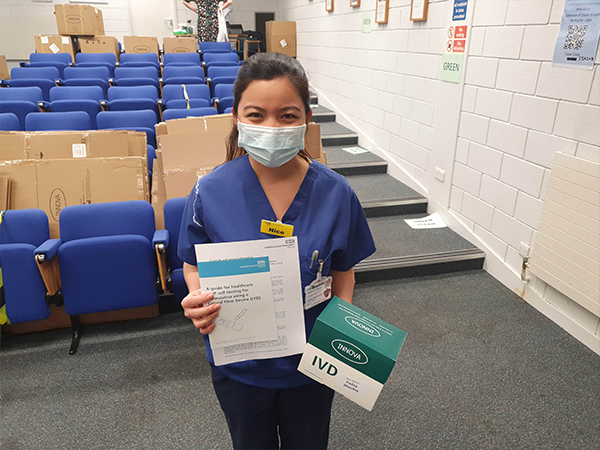 A nurse with her COVID-19 lateral flow testing kit
Results
Over a short 5 weeks, including the Christmas and New Year's period, over 6,300 staff at the Trust received their lateral flow testing kits, with everyone tracked and recorded with the CAT QR solution.
This meant the vast majority of staff, including all clinical staff, could now be tested for COVID-19 on a regular basis. This would improve virus detection within the Trust, prevent further transmission and spread, and keep patients and staff safe.
The digital recording of attendance using QR codes meant that the team could free up their administrative resources to support staff, and help provide accurate, real-time information to the management team.
"The app has allowed us to utilise an automated way for staff to collect their kits and also enables us to capture all the data required on distribution, collections and stocktaking which has to be reported on a daily and weekly basis to NHS England. Staff have found it really simple and easy to download the app, which allows them to come and pick up a kit and from the management side the app has taken out all the manual and intensive labour which would have been required should we not have had this app" explains Belinda Regan, Director of Nursing & Governance.
"It also meant I could be confident that the data I was reporting across the Trust, and up to NHS England on a daily basis was always accurate and up-to-date on a real-time basis."

About Class Attendance Tracker (CAT) QR
The CAT QR solution was developed in conjunction with Barts Health NHS Trust, which employs over 24,000 permanent and temporary staff and manages internationally renowned teaching hospitals, St Bartholomew's Hospital and The Royal London Hospital.
While primarily designed as a solution for real-time recording of attendance at live events, both face-to-face and virtual, Barts Health is also using CAT QR for recording the collection of COVID-19 lateral flow testing kits, face mask fit testing, medical device training, vaccination training as well as check-in & check-out of venues.
Click here to see a video of CAT QR in action at NHS Nightingale Hospital London where it was used to monitor the attendance for induction, simulation and training at London's ExCeL Centre and O2 Arena.