Private K-12 school uses CAT QR solution to simplify signing in and out of school and reduce the risk of infections during the COVID-19 pandemic
Background
Score Academy is a private school that specializes in custom tailored 1-on-1 and small-group education. Located within the Score At The Top Learning Centers, Score Academy focuses on one student at a time, creating an individual education plan and schedule for each student based on academic needs, learning style, and personality.
The Score Academy school at Boca Raton, Florida is a small school with roughly 75 students and 22 teachers.
It's important for Score Academy to know which students, as well as teachers and staff, are at school on any given day. In the past, they simply used a paper register at the entrance to the school, which could be problematic - causing frustration and queues of people waiting to sign in, and could result in students not signing in at all. Sometimes if students were late, they would simply change the time when they signed in. It could be a messy affair and the data wasn't always accurate.
When the COVID-19 pandemic happened in 2020, it also became a safety issue. Having students and staff crowding around a table, and sharing pens was simply not an option anymore.
They had considered keycards but with people holding the door for each other, that would have also produced inaccurate information.
LeAnn Elder, Head of School at Score Academy Boca Raton decided they needed a different solution, something that was contactless and something that was easy to use. She started searching on the Internet for some options, where she discovered Class Attendance Tracker (CAT) QR.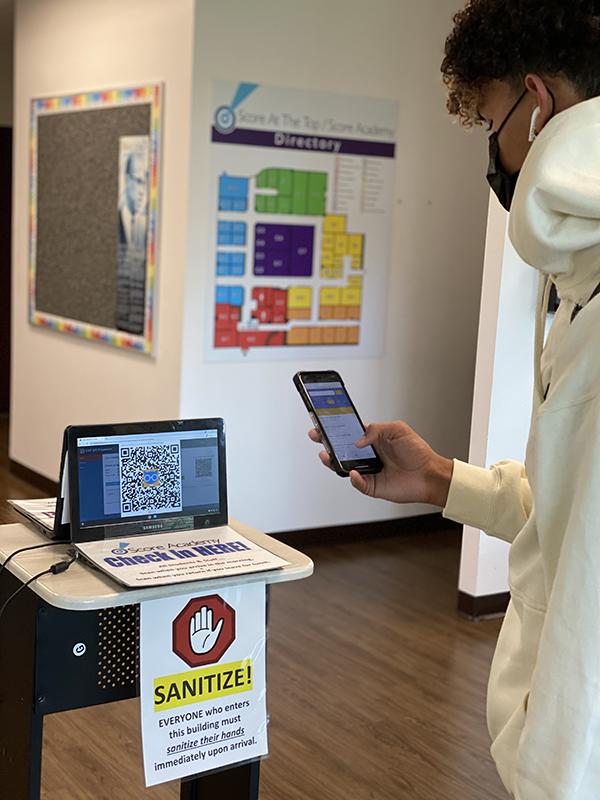 A student scanning into school with his CAT QR mobile app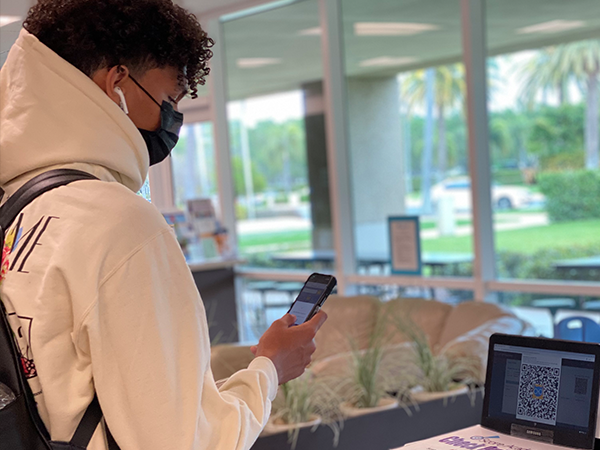 A student scanning out of school with his CAT QR mobile app
The solution
Instead of paper registers, Score Academy now uses CAT QR as their sign-in and sign-out attendance solution at the school.
At the entrance to the school, they set up a kiosk with two laptops - one facing inwards to the school for the signing in and one outwards for students to sign out when they leave the school.
Students and staff simply scan the unique CAT QR codes using their CAT QR mobile app, which immediately registers their sign-in or sign-out, providing real-time information for LeAnn and the team.
Score Academy uses the unique CAT QR 'dynamic code' functionality which means the QR code changes every few seconds, preventing students from cheating. The laptops are permanently on throughout the day.
The QR codes are set up in advance every Friday using the CAT Organiser admin portal – that way their QR Codes are set for the week and then they just display the new codes on a daily basis.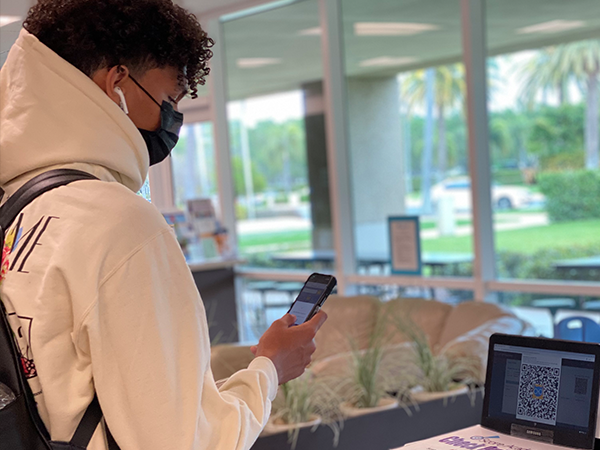 A student scanning out of school with his CAT QR mobile app
Results
CAT QR is used daily for signing in and signing out for all students and staff. Over the course of each month they are recording roughly 1700 sign-in/sign-out records.
Staff and students at Score Academy love the simplicity of the app, and the leadership team do too. There are no more queues, the data is accurate, and importantly they reduced the risk of infection.
The real time information has allowed the leadership team to have a better handle on the attendance of their students as well as staff. Sometimes, if they are looking for a member of staff they can check CAT QR to confirm they are indeed at the school. The same goes for students and they can also check CAT QR retrospectively if there are any questions about a student's attendance or tardiness.
And for students hoping to go to college, good attendance and good record keeping is crucial when applying to scholarships.
In the event of an emergency, for instance a fire evacuation, they don't have to grab a register anymore - they know they will be able to access the information from anywhere and any device, as long as they have an internet connection.
The school is so happy with the simplicity, accuracy and overall setup of the system that they have decided to continue using CAT QR even when the pandemic is over.
"Class Attendance Tracker (CAT) QR has been fantastic for us and easy to use. I needed a contactless solution for taking attendance at our small private school when students arrive and leave. We were able to easily purpose CAT QR to accomplish this and signing in/out of school for teachers and students has never been easier or quicker." says LeAnn Elder, Head of School at Score Academy Boca Raton. "Even beyond COVID, we will continue to use this system."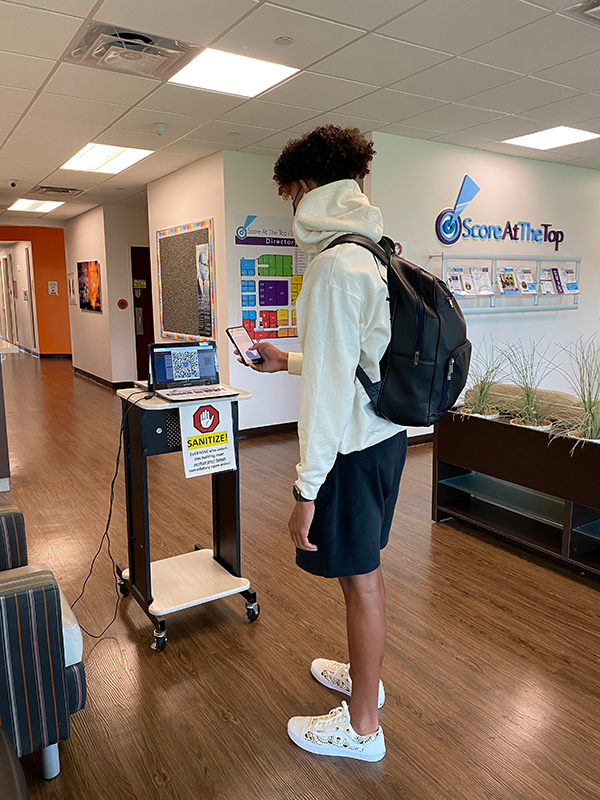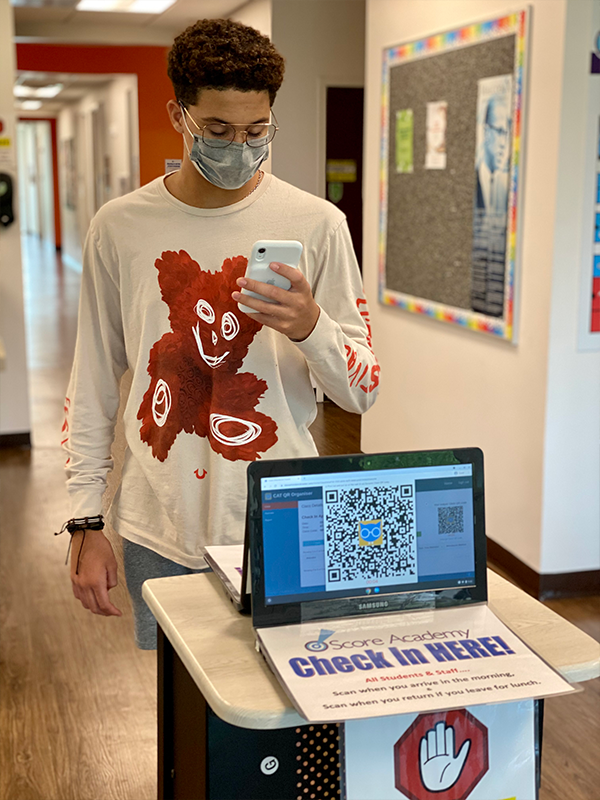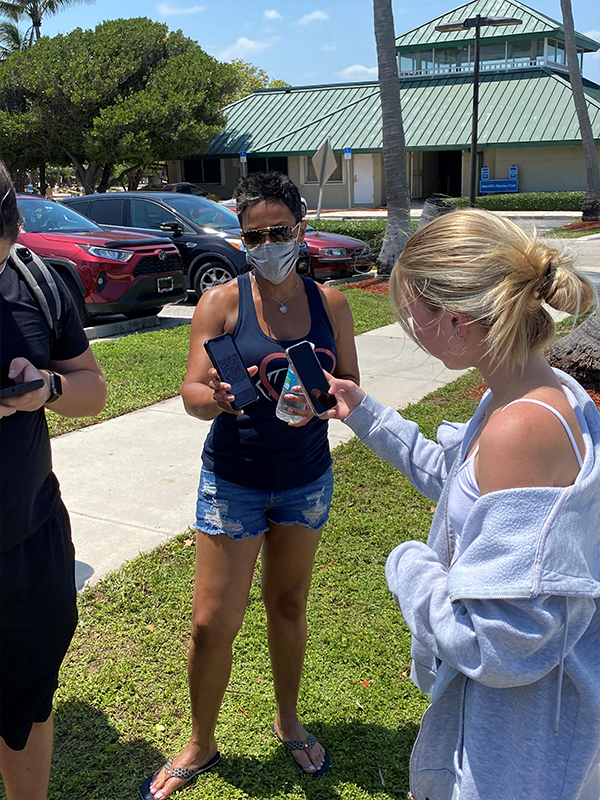 At a school beach cleanup (last photo), LeAnn Elder logged into her CATQR Organiser account to display the QR code on her mobile phone for students to check in and gain their community service hours.

About Class Attendance Tracker (CAT) QR
The CAT QR solution was developed in conjunction with Barts Health NHS Trust, which employs over 24,000 permanent and temporary staff and manages internationally renowned teaching hospitals, St Bartholomew's Hospital and The Royal London Hospital.
While primarily designed as a solution for real-time recording of attendance at live events, both face-to-face and virtual, Barts Health is also using CAT QR for recording the collection of COVID-19 lateral flow testing kits, face mask fit testing, medical device training, vaccination training as well as check-in & check-out of venues.
Click here to see a video of CAT QR in action at NHS Nightingale Hospital London where it was used to monitor the attendance for induction, simulation and training at London's ExCeL Centre and O2 Arena.